GOES-R Satellites Orientation Course
Posted on: 2015-03-20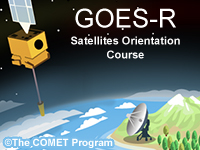 The next generation of NOAA Geostationary Weather satellites will launch in March of 2016. Now that we are within the one year launch window for GOES-R, there is no time like the present to learn more about the exciting advancements that will soon become available to many in the western hemisphere. Start your learning with our, GOES-R Orientation Course. The three required lessons in this course include:
GOES-R: Benefits of Next-Generation Environmental Monitoring
GOES-R ABI: Next Generation Satellite Imaging
GOES-R GLM: Introduction to the Geostationary Lightning Mapper
Other optional lessons are available to extend your education. The course is available in both English and Spanish.