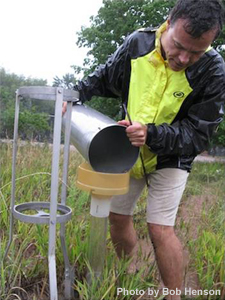 Matt Kelsch, COMET staff meteorologist, emptying a rain gauge during September 2013's epic flooding event in Boulder, CO.
Join the COMET Program of the University Corporation for Atmospheric Research (UCAR) for our first "pay-as-you-go" webinar series. The topic is flash flooding and the webinars will be offered on March 19-20, 2014. Led by flood expert Matt Kelsch, this series is designed to increase your knowledge and interest about these dangerous and fascinating natural phenomena.
The two webinars will look at different aspects...