Media Galleries and Updated Media Search
Posted on: 2012-02-07
We've updated our module description pages to include a project's media elements. Check out your favorite module's description page and look for the Media Gallery tab, like our recent publication, Space Weather Basics, 2nd Edition. Click the "More details..." link below a thumbnail to get, well, more details! Some of our older modules will be missing the Media Gallery feature as their media elements are not in our database.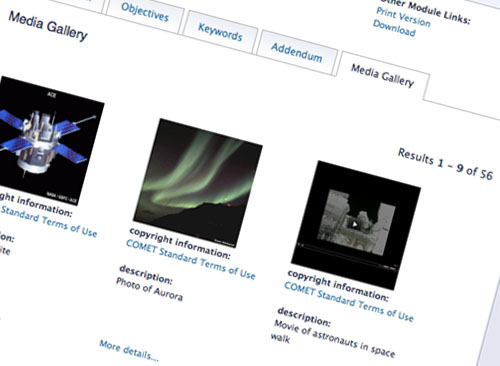 We've also updated the search results tab, Images and Media Results. Use the search tool near the top of many of MetEd's pages to search for your favorite meteorological topic and check out the Images and Media results. If any of the media results are of interest to you, click the "More details..." link below a thumbnail. In the pop-up with more information, there is now a link to the module that uses that media element.
Note that you'll need to be logged in in order to see media elements in the Media Galleries and search results.