Winter is here in the northern hemisphere
Posted on: 2014-10-22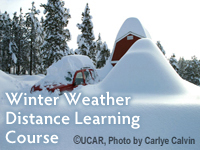 Winter is coming to the northern hemisphere and MetEd has a great collection of lessons in a self-paced course to help you hone your winter weather forecasting skills. Our Winter Weather Distance Learning Course addresses some of the key challenges to winter weather forecasting, including: microphysics, precipitation type, precipitation amount, and applications of NWP ensembles. Visit the course page and hit the Enroll button to get started. For those of you living on the southern side of the equator: enjoy the onset of spring!