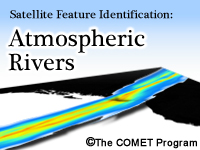 Published on: 2012-03-13
Estimated time to complete: 1.00 - 1.25 h
Includes audio: no
Topic Area(s)
Hydrology/Flooding
QPF/QPE (Precip)
Satellite Meteorology
Winter Weather

Description:
The Satellite Feature Identification: Atmospheric Rivers lesson presents the global moisture transport phenomenon known as the Atmospheric River (AR). ARs are responsible for transporting the majority of maritime moisture from low to middle latitudes. Advanced satellite products, including Integrated Water Vapor and Total Precipitable Water, provide excellent observations of AR development and evolution. This lesson demonstrates the usefulness of these products in forecasting the impacts of ARs, especially when they are combined with numerical weather prediction products. Several AR case studies highlight the importance of using satellite information regarding ARs and allow the user to practice forecasting their impacts. This lesson is part of the series: "Dynamic Feature Identification: The Satellite Palette".
Objectives:


Define an Atmospheric River (AR) and characterize its typical dimensions.


Describe the disadvantages of common satellite channels in identifying atmospheric rivers.


Identify ARs using precipitable water/integrated water vapor and moisture transport thresholds.


Characterize the subjective nature of defining an AR.


Identify mechanisms that will help convert AR moisture into precipitation.


Describe how the appearance of ARs on satellite can assist with forecasting excessive precipitation.


Synthesize information from satellite and numerical weather prediction products to forecast the impact of an AR.


Keywords
Atmospheric Rivers (ARs), Water Vapor Channel, Longwave Infrared Channel (IR), Integrated Water Vapor (IWV), Total Precipitable Water (TPW), Blended Total Precipitable Water (bTPW), Integrated Vapor Transport (IVT), Moisture Transport, Moisture Advection, Excessive Precipitation, Flooding, Satellite Palette, Dynamic Feature Identification, Precipitable Water (PW), Forecasting ARs, Microwave Imagery, Polar-orbiting Satellite, Pineapple Express, Moisture Plumes, Theta-E, Warm Conveyor Belt (WCB), Extratropical Cyclone, Orographic, Maritime, Anomalous Moisture, Anomalous TPW, Anomalous PW, Standard Deviation, Numerical Weather Prediction (NWP), Isentropic Ascent, Frontal Boundary, Outflow Boundary, Geopotential Height, GPS, GOES