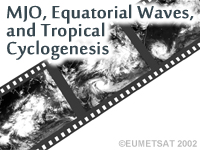 Publish Date: 2012-11-13
Last Updated On: 2014-07-02
Skill Level:

2

Completion Time: .75 - 1.00 h
Includes Audio: no
Required Plugins: none
Included in Courses:
Dynamic Meteorology
Overall Rating:

(77 ratings)

Read or add reviews

Take the quiz?

Share this resource:
This case study focuses on monitoring of the MJO and equatorial waves and their role in tropical cyclogenesis. Learners will use conceptual models to understand the structure of the MJO and equatorial waves. They will identify and monitor those circulations using geostationary satellite images. 850-hPa synoptic analysis is used to track equatorial Rossby and mixed Rossby-gravity waves. Focus is on May 2002, a period when an MJO and associated equatorial waves spawned sets of twin cyclones over the Indian Ocean. This case study is similar to a synoptic meteorology laboratory exercise but is designed for use in an online course.