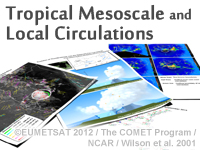 Take the quiz?

Share this resource:
This interactive module is part of an online university-level tropical synoptic meteorology course, which helps international meteorologists meet basic instructional requirements. In the module, we discuss:
Mesoscale, thermally-forced circulations (i.e. land-sea breeze and mountain-valley breeze), including

How they are formed and their diurnal cycle
Factors that modify thermally forced circulations
The weather associated with thermally forced circulations, particularly convection and other significant weather

Interactions of mesoscale, thermally forced circulations with other atmospheric phenomena, including

Intersection of mesoscale circulations and of mesoscale circulations with convective outflow boundaries
Thermally forced circulation interactions with monsoonal and trade wind flows

The impact of thermally forced and interacting circulations at various scales on the diurnal cycle of precipitation in the tropics, and
A case example from the Lake Victoria basin, showing complex thermally forced circulations, outflow boundaries, and synoptic scale flow.