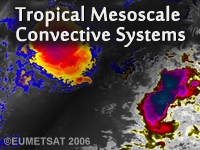 Take the quiz?

Share this resource:
Mesoscale Convective Systems (MCSs) occur globally and can account for significant percentages of the annual precipitation in some locations. MCSs are responsible for flooding as well as damaging surface winds in some instances. Thus, it is important for forecasters to understand when, where, and how MCSs develop and maintain themselves.
This module covers all modes of MCSs with a strong focus on the tropics and the different aspects that brings to MCS development, maintenance, and structure. It describes conceptual models of MCSs and the dynamical and physical processes that influence their evolution. Also included are examples of MCSs from various areas of the tropics.