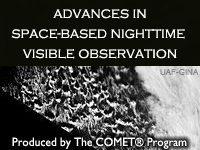 Languages: English
Publish Date: 2013-04-02
Last Updated On: 2016-01-07
Retired Date: 2017-07-10
Overall Rating:

(6 ratings)

Read or add reviews


This module has been retired and is no longer available on MetEd.


This one-hour module explores the types of atmospheric and surface features that can be observed at night. It describes recent technical improvements in nighttime visible imaging with the Suomi NPP VIIRS Day/Night Band and the lunar phases and other conditions that are necessary for effective nighttime visible imaging. This lays the foundation for the rest of the module, which explores operational uses of nighttime visible observations. These include the detection and monitoring of city lights, tropical cyclones, fog and stratus, polar nights, auroras, fires, volcanoes, dust storms, air pollution, moonglint, lightning, gas flares, ships and boats, and population/economic geography. The module is aimed at weather forecasters and other environmental scientists who use nighttime environmental data. Other users, such as those in the transportation industry and economists, may profit from it as well.