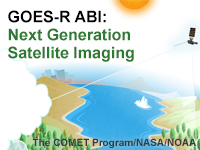 Take the quiz?

Share this resource:
This extension of the COMET lesson "GOES-R: Benefits of Next Generation Environmental Monitoring" focuses on the ABI instrument, the satellite's 16-channel imager. With increased spectral coverage, greater spatial resolution, more frequent imaging, and improved image pixel geolocation and radiometric performance, the ABI will bring significant advancements to forecasting, numerical weather prediction, and climate and environmental monitoring.
The first part of the lesson introduces the ABI's key features and improvements over earlier GOES imagers. The second section lets users interactively explore the ABI's 16 channels. The third section contains movies that show the advancements that the ABI will bring to the following application areas: convection, flooding, wildfires, land cover, hurricanes, climate, air quality, aviation, fog and low visibility, and coastal and marine. The final section contains additional resources pertaining to the ABI. The lesson has numerous takeaways, including ten application movies and an interactive spectrum.