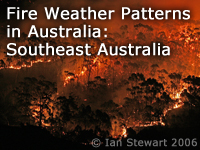 Languages: English
Publish Date: 2013-02-26
Skill Level:

1

Completion Time: 1.00 - 1.25 h
Includes Audio: yes
Required Plugins: Flash
Topics:
Fire Weather
Overall Rating:

(44 ratings)

Read or add reviews

Take the quiz?

Share this resource:
The module illustrates the typical synoptic pattern influencing fire weather in southeast Australia. A case study provides insight into how experienced forecasters combine the four key ingredients—wind, temperature, dew point temperature, and fuel state—to produce a fire danger index value and resulting forecast policy map. Then, a case exercise allows the learner to practice using weather and fuel data to create a fire weather forecast policy map for southeastern Australia.