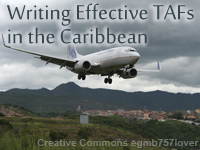 Take the quiz?

Share this resource:
The module reviews the fundamental steps for writing a Terminal Aerodrome Forecast (TAF) using guidelines and recommendations developed by the World Meteorological Organization (WMO) and the International Civil Aviation Organization (ICAO).
This module outlines effective forecast methodologies to develop TAFs that represent the expected conditions that aviation customers can use to make operational decisions and minimize unnecessary costs. The module walks users through the process of analysis of satellite, surface, and observational data to create a TAF forecast for an airport in the Caribbean.