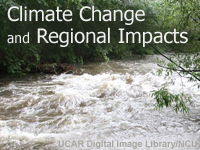 Publish Date: 2012-08-14
Skill Level:

0

Completion Time: 0 - .25 h
Includes Audio: yes
Required Plugins: Flash
Topics:
Climate
Overall Rating:

(700 ratings)

Read or add reviews

Take the quiz?

Share this resource:
This short module is an overview of the different effects climate change produces in different regions of the United States. In addition to discussing impacts already being experienced, the module presents information on how climate scientists use specialized models and statistical techniques to estimate how regional climates are likely to change in the future.