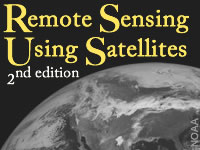 Take the quiz?

Share this resource:
The second edition of the popular "Remote Sensing Using Satellites" module updates imagery of recent hurricanes as well as other phenomena from more recent satellites. The suggested audience for this module is high school and undergraduate students.
Learn about remote sensing in general and then more specifically about how it is done from satellites. We will focus on the visible and infrared channels, those commonly seen on television broadcasts. Come explore the view of Earth from space and see what we see.
In the second chapter, we will focus even more on hurricanes and specifically Hurricanes Jimena (2009), Ike (2008), and Irene (2011).