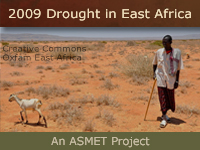 Publish Date: 2012-01-17
Skill Level:

2

Completion Time: 1.00 - 1.25 h
Includes Audio: no
Required Plugins: Flash
Overall Rating:

(65 ratings)

Read or add reviews

Take the quiz?

Share this resource:
The module examines the 2009 drought in the Greater Horn of Africa (GHA), focusing on conditions in Kenya. The module begins by reviewing drought conditions in the years leading up to 2009. From there, it examines the seasonal climate forecast for the beginning of 2009 and see what it portends. Satellite products are used to study rainfall performance throughout the year and its impact on the drought situation. Finally, the module describes the climate oscillations that can impact drought in the GHA and identifies patterns that were present in 2009 and contributed to its severity. By the end of the module, weather forecasters and students should have a better understanding of drought and the tools available for its early detection and monitoring.