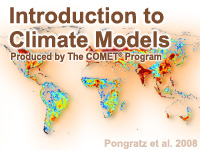 Take the quiz?

Share this resource:
This module explains how climate models work. Because the modeling of both weather and climate share many similarities, the content throughout this module draws frequent comparisons and highlights the differences. We explain not only how, but why climate models differ from weather models. To do so, we explore the difference between weather and climate, then show how models are built to simulate climate and generate the statistics that describe it. We conclude with a discussion of models are tuned and tested.
Understanding how climate responds to changes in atmospheric composition and other factors drives climate research. Climate models provide a tool to understand how processes work and interact with each other.
Our intended audience is the weather forecasting community: those who are already familiar with NWP models. Non-forecasters with an interest in weather and climate should also find the module useful. The content is not overly technical and the goal of this module is not to train people to develop climate models but to highlight the similarities and differences between weather and climate models.