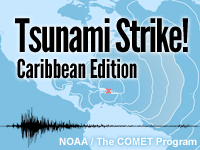 Publish Date: 2012-02-07
Last Updated On: 2017-12-12
Skill Level:

0

Completion Time: 4.00 - 5.00 h
Includes Audio: yes
Required Plugins: AdobeReader, Flash
Included in Courses:
Tsunami Distance Learning Course
Overall Rating:

(0 ratings)

Read or add reviews

No quiz for this resource

Share this resource:
December 2017: Lesson updates reflect changes in the National Tsunami Warning Center and Pacific Tsunami Warning Center areas of responsibility, which directly affect part of the Caribbean region. May 2014: In October 2013, the West Coast/Alaska Tsunami Warning was renamed the National Tsunami Warning Center. This lesson currently reflects the previous name.