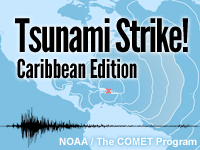 Publish Date: 2012-02-07
Last Updated On: 2017-12-12
Skill Level:

0

Completion Time: 4.00 - 5.00 h
Includes Audio: yes
Required Plugins: AdobeReader, Flash
Included in Courses:
Tsunami Distance Learning Course
Overall Rating:

(1 rating)

Read or add reviews

No quiz for this resource

Share this resource:
Tsunami Strike! Caribbean Edition offers an interactive learning experience in which learners take on the role of a journalist writing an article for a news magazine. Sixteen multimedia lessons on tsunami science, safety, and history are interwoven within the learning scenario as resources for the article. The material is aimed at middle school and high school students (ages 13-17) but will be useful to a broader audience wishing to learn more about tsunamis in general, and in particular about tsunami risks in the Caribbean.