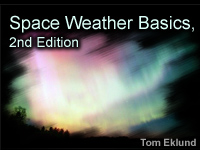 Take the quiz?

Share this resource:
August 2016: HTML and media assets in this lesson have been updated for current browsers and mobile devices.
1/10/2012: Changes in this 2nd edition of the lesson include: 1) updating the name of the Space Weather Prediction Center from its former name, the Space Environment Center and giving a brief description of SWPC duties, 2) adding content highlighting new satellites and their role in forecasting space weather, and 3) new material on advancements in space weather prediction models.