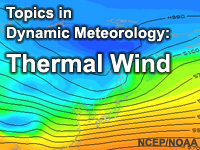 Publish Date: 2012-03-20
Last Updated On: 2016-06-17
Skill Level:

1

Completion Time: 1.25 - 1.50 h
Includes Audio: yes
Required Plugins: none
Topics:
Other
Overall Rating:

(255 ratings)

Read or add reviews

Take the quiz?

Share this resource:
This lesson explores the dynamic links between temperature, pressure, and wind in the atmosphere. The qualitative description of the relationships is augmented with "Math Sidebars" that provide a quantitative treatment. Numerous applications to climatology and forecasting conclude the module.