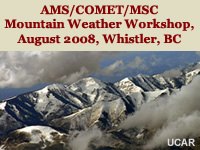 No quiz for this resource

Share this resource:
The lectures are intended for meteorologists in both the research and operational communities who have an interest in mountain meteorology. For researchers, the workshop provided a better understanding of the technical needs of today's mountain weather forecasters, including learning about forecast problems and areas requiring more research, and learning about practical limitations of theoretical and numerical models used operationally. For forecasters, the workshop provided training on fundamentals of flows in complex terrain which are notoriously difficult to predict, an understanding of current research challenges, and a description of the latest advancements in theoretical understanding, numerical modeling, and observational techniques of weather in complex terrain.