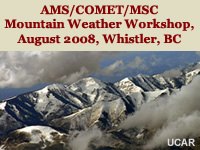 No quiz for this resource

Share this resource:
In August 2008, the "Mountain Weather Workshop: Bridging the Gap Between Research and Forecasting" was held in Whistler, BC, Canada. It was sponsored by the American Meteorological Society, UCAR/COMET, and the Meteorological Service of Canada. The workshop brought together researchers, faculty, students, and operational forecasters. Its primary goals were to help provide a better understanding of the state of the science of mountain meteorology from both a research and an operational perspective, and to discuss ways of improving interaction between the research and forecasting communities. The workshop consisted of lectures by distinguished speakers covering numerous topics related to weather in complex terrain. This webcast collection contains recordings of the presentations from the workshop.