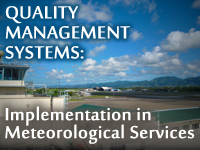 Take the quiz?

Share this resource:
State how the eight fundamental principles of quality management are demonstrated within a successful QMS.
Explain the benefits of a QMS for enhancing the delivery of aviation products and services for aviation meteorological services providers and their stakeholders.
Distinguish key terms, including "quality", "quality management system", and "quality management."
Identify key resources to aid in QMS implementation.
Describe twelve steps for the successful implementation of a QMS based on the ISO 9001:2008 quality management standard.

Identify the components of a quality management system implementation plan.
Describe the required roles for a successful QMS.

Describe the potential training requirements for implementing and operating a QMS.

Describe the importance of having all staff members participate in the implementation of a QMS.
State the characteristics of effectively documented procedures.

List strategies for gaining insights into customer satisfaction and identifying their needs.
Describe the importance of and best practices for internal and external audits.

Identify key steps for preparing for an internal or external audit.
Identify key processes for internal and external audits, and ways to ensure their success.

Describe best practices for using external consultants.