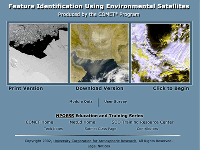 Take the quiz?

Share this resource:
This Webcast, presented by Tom Lee of the Naval Research Laboratory, focuses on feature identification using a combination of high-resolution multispectral polar and geostationary satellite imagery products.
The Webcast is made up of five short sections focus on a set of particularly challenging feature identification problems including: clouds over snow; contrails/thin cirrus; fires, hot spots, and smoke; blowing dust; snow, icebergs, and pack ice. Examples are included from Asia, Europe, and North America. A table summarizes suggested detection strategies for each phenomena type, based on available polar and geostationary capabilities and whether the event occurs during daytime or nighttime.