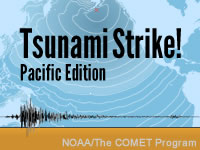 No quiz for this resource

Share this resource:
Tsunami Strike! Pacific Edition is a scenario-based learning experience for kids from middle school through high school (approximate ages 13-17). The scenario tells the story of four main characters at different locations in the Pacific basin who are each impacted by a major tsunami that originates in Alaska's Aleutian Islands. Over the course of the story, learners not only view the unfolding events and how each of the characters responds, but also observe how warning scientists analyze and communicate the tsunami threat. Fourteen short lessons provide interactive instruction focused on the science, safety, and history of tsunamis. The module includes a Teacher's Guide and other Resources for Teachers that provide ideas on how to use Tsunami Strike! in the classroom.