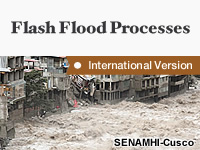 Take the quiz?

Share this resource:
Flash floods can occur in nearly any area of the world. A rainfall-induced flash flood is a truly hydrometeorological event: one that depends on both hydrologic and meteorological conditions. Forecasting flash floods involves a detailed understanding of the local hydrologic features and continual monitoring of the current meteorological situation.
This module examines both the hydrologic and meteorological processes that often contribute to the development of flash flooding. Common tools and technologies that are used in flash flood monitoring and forecasting, from manual gauging systems to complex radar- and satellite-based runoff models, are explored. This module also examines the strengths and limitations of these technologies, as well as how they are likely to advance in the future.