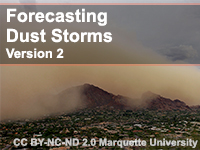 Take the quiz?

Share this resource:
A Southwest U.S. case study of a dust storm event in Phoenix, Arizona was added to this module on August 18, 2020. The Time Length was increased from 1.5-2h to 2-3h. The splash image, thumbnail, and module description and contributors were updated. Flash was removed from Plug-ins.
August 2020 - The lesson was updated to current internet standards (mp4/html5).
The Skill Level rating for this module was changed from level 1 to level 2 on August 23, 2011.