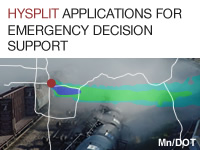 This module helps forecasters provide decision support services during hazardous materials emergencies. Topics covered include:
Types of weather data inputs required for short-range dispersion models typically used by emergency managers
Types of inputs required to run the web version of the HYSPLIT model, which is now available to NWS forecasters
The types and scales of events that are appropriate and inappropriate for modeling by HYSPLIT
Key uncertainties that can cause misleading dispersion model forecasts
The processes and limitations of CAMEO/ALOHA and HYSPLIT
How to read and interpret HYSPLIT output
How to handle special situations, such as when the spilled chemical is known or when the meteorological models do not adequately represent conditions at the spill site
The role of emergency managers and how to effectively communicate with them
In addition, two WES case studies have been sent to NWS offices. These cases provide practice running the HYSPLIT model in two scenarios that emphasize potential hazards and weather influences.