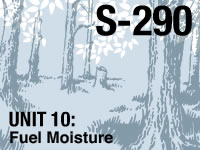 Take the quiz?

Share this resource:
S-290 Unit 10: Fuel Moisture provides information about live and dead fuel moisture contents and their relation to fire behavior. Influences on fuel moisture and methods for estimating dead fuel and live fuel moisture in the field are summarized, and guidance is offered for assessing the potential fire danger based on fuel moisture and other fireline information. The module is part of the
Intermediate Wildland Fire Behavior Course
.