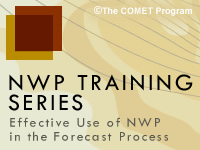 No quiz for this resource

Share this resource:
This lesson, part of the "NWP Training Series: Effective Use of NWP in the Forecast Process", introduces the student to the full series. Motivation for the series is presented by Mr. LeRoy Spayd, Chief of the National Weather Service Training Division; this includes a demonstration of the value added by human forecasters to NWP forecasts through recent precipitation verification. Contributors to the series are acknowledged as well. Then Dr. Bill Bua, a member of the NWP Training Team, expands on points raised by Mr. Spayd by posing and answering a question on the role of NWP in the forecast process and presenting additional evidence on how human forecasters add value to NWP from 16 years of verification. Finally, we summarize the purpose for developing this series, give contact information for content and technical support, and list web links to other relevant COMET training resources.