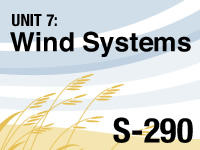 Take the quiz?

Share this resource:
Describe the effects of wind on wildland fire behavior.
Describe general winds around high pressure and low pressure systems.
Describe the cause and effect of local winds (slope/valley winds and land/sea breeze) on wildland fire behavior.
Describe typical diurnal slope and valley wind patterns, and identify temporal patterns on a topographic map.
Describe critical winds and their impact on wildland fire behavior.
Identify three ways topography can alter wind direction and speed.
Describe general, local, and 20-foot and mid-flame winds, and their relationship to each other.
Adjust winds speeds based on topographic location and calculate midflame wind speeds for the three main fuel types.