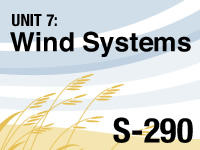 Take the quiz?

Share this resource:
S-290 Unit 7: Wind Systems outlines general and local winds and their processes. Detailed information is provided about critical fire weather winds, including frontal winds, foehn winds, and thunderstorm winds and the effects of these winds on wildland fires. The module also describes topographic influences on winds, and provides guidelines for estimating winds based on location and fuel sheltering. The module is part of the
Intermediate Wildland Fire Behavior Course
.