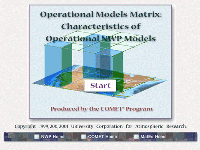 Publish Date: 2007-10-19
Last Updated On: 2012-05-08
Retired Date: 2015-10-07
Overall Rating:

(0 ratings)

Read or add reviews
July 2014: The NWP model and EPS matrices have not been updated since September 2012. Luckily, no significant NWP model or EPS upgrades were made during the rest of 2012 and during 2013. For the Marine Wave Modeling Matrix, no new model information has been added since 2005, and many changes have been made to the wave models over the last nine years.
In 2014, however, implementations will be rapid and substantial, so the content of the NWP and EPS matrices will become more outdated. Already in 2014, the Rapid Refresh Model (RAP) was upgraded to version 2, and the Short-Range Ensemble Forecast (SREF) system had a major upgrade. For more information on these changes, see the Technical Information Notice (TIN) at http://www.nws.noaa.gov/os/notification/tin13-38rap_aab.htm for the RAP, and http://www.nws.noaa.gov/os/notification/tin14-02sref_winter_aaa.htm for the SREF
.
Changes to the Real-Time Mesoscale Analysis (RTMA) were also detailed on the NWP matrix through December 2008. See the RTMA module addendum for changes since then.