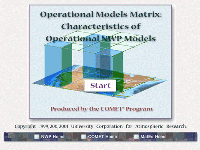 Publish Date: 2007-10-19
Last Updated On: 2012-05-08
Retired Date: 2015-10-07
Overall Rating:

(0 ratings)

Read or add reviews
Operational Models Matrix: Characteristics of Operational NWP Models, part of the Numerical Weather Prediction Professional Development Series, contains information about the characteristics and architecture of commonly used operational models, their operationally significant strengths and weaknesses, and model assessment tools. The information is updated whenever significant model changes are made. The module is linked to the Impact of Model Numerics on Weather Depiction module (also in the NWP PDS), which provides background information about model components. The subject matter expert for this module is Dr. Ralph Petersen of the National Centers for Environmental Prediction, Environmental Modeling Center (NCEP/EMC).