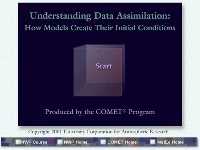 Publish Date: 2001-01-31
Retired Date: 2012-04-10
Overall Rating:

(1 rating)

Read or add reviews


This module has been retired and is no longer available on MetEd.


NOTE: This module has been updated to 'Understanding Data Assimilation: How Models Create Their Initial Conditions - version 2' and can be found at
http://www.meted.ucar.edu/nwp/model_dataassimilation
This module explains the process by which data are used in NWP models and the ever-increasing importance that data assimilation has on the quality of numerical forecasts. It provides learners an appreciation for how models use data as a function of model resolution and data type, how data influence the analysis, the limitations of data assimilation systems, the importance of initial conditions on the quality of NWP guidance, as well as the challenges of assessing the quality of NWP guidance based on the initial conditions. The subject matter expert for this module is Dr. Ralph Petersen of the National Centers for Environmental Prediction, Environmental Modeling Center (NCEP/EMC).