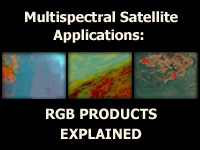 Take the quiz?

Share this resource:
This lesson provides an overview of meteorological and environmental RGB products, namely, how they are constructed and how to use them. The first half provides background information on the RGB development process and the rapid evolution of RGB products as newer geostationary and polar-orbiting satellite imagers incorporate additional spectral channels.
The second half of the lesson, the Applications section, focuses on the formulation and uses of RGB products; providing examples, interpretation exercises, satellite specific information, and other background information for many of the commonly used products.
The lesson is intended for operational forecasters, meteorology and remote sensing students from the undergraduate level on up, scientists, and all others who rely on satellite products for environmental information.