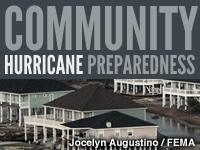 Publish Date: 2010-05-20
Last Updated On: 2017-04-17
Skill Level:

1

Completion Time: 5.00 - 6.00 h
Includes Audio: yes
Required Plugins: none
Overall Rating:

(869 ratings)

Read or add reviews

Take the quiz?

Share this resource:
The purpose of this course is to provide emergency managers who face threats from tropical cyclones and hurricanes with basic information about:
How tropical cyclones form
The hazards they pose
How the NWS forecasts future hurricane behavior
What tools and guiding principles can help emergency managers prepare their communities
The course is not intended to take the place of courses sponsored by FEMA, the National Hurricane Center, and/or state agencies. However, it will provide a good background for those who either plan to attend those courses or cannot attend them. The original module was published in 2000. This 2nd edition provides updated information on hurricane science and National Weather Service forecast products. In addition, a new section on Emergency Management discusses decision-making tools that can help emergency managers in response and evacuation decision-making during hurricane threats. This module is course number IS-324.a in FEMA's Emergency Management Institute's Independent Study catalog.