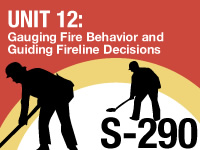 Take the quiz?

Share this resource:
Describe how to apply fire behavior information to safety and suppression decisions.
Demonstrate how to calculate the size of safety zones.
Identify the importance of changes in fire behavior to firefighter safety.
Discuss what drives large changes and identify the "next big change."
Demonstrate a simple but systematic method for gauging change and estimating fire spread time.
Identify other fire behavior prediction tools.