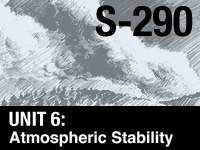 Take the quiz?

Share this resource:
S-290 Unit 6: Atmospheric Stability introduces the processes related to stable and unstable atmospheric conditions and explains their impact on fire behavior. This Unit provides detailed information about how fire behavior is affected by stable and unstable atmospheric phenomena such as inversions and thunderstorms. The Unit also explains cloud formation and describes the usage of clouds and other visual indicators to recognize stable and unstable atmospheric conditions. The module is part of the Intermediate Wildland Fire Behavior Course
"https://www.meted.ucar.edu/training_course.php?id=14"
.