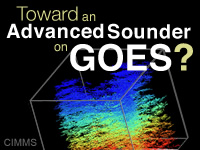 Languages: English
Publish Date: 2010-01-26
Skill Level:

1

Completion Time: .25 - .50 h
Includes Audio: yes
Required Plugins: Flash
Overall Rating:

(22 ratings)

Read or add reviews

Take the quiz?

Share this resource:
This module uses recorded interviews from several satellite meteorologists and respected satellite experts to describe how a high spectral resolution infrared sounder in geostationary orbit would lead to significant improvements in mesoscale and severe weather forecasting and numerical weather prediction.
Discussions focus on the currently unsatisfied need for an advanced sounder in geostationary orbit and the potential contributions this capability could provide.