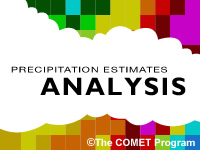 Languages: English
Publish Date: 2010-01-19
Skill Level:

2

Completion Time: 1.25 - 1.50 h
Includes Audio: yes
Required Plugins: none
Overall Rating:

(85 ratings)

Read or add reviews

Take the quiz?

Share this resource:
This is part two of a two-module series on estimation of observed precipitation. Through the use of rich illustrations, animations, and interactions, this module provides an introduction to the science behind successful application of the products and tools available through the NWS Multisensor Precipitation Estimator (MPE) software and related products. An overview is presented of the key fields available in MPE along with illustrations of their use. These include radar, gauge, satellite, bias-adjusted radar, and multisensor fields of precipitation accumulation along with data displays and tables used for evaluating and editing the data. Subsequently, methods for additional data editing with MPE's polygon editing tool are explained, as well as the selection of a best estimate. Finally, a case study section is offered to show how these methods have been applied in the field for a variety of events and locations.