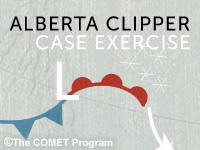 Languages: English
Publish Date: 2010-01-05
Skill Level:

3

Completion Time: 1.50 - 2.00 h
Includes Audio: no
Required Plugins: Flash
Overall Rating:

(72 ratings)

Read or add reviews

Take the quiz?

Share this resource:
* Recognize the key synoptic ingredients that can lead to the development of an Alberta Clipper. * Determine the track of an Alberta Clipper * Assess snowfall amounts associated with a clipper. * Identify signals in the satellite and radar imagery as well as in the NWP data that can be associated with these systems.