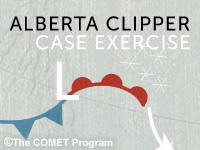 Languages: English
Publish Date: 2010-01-05
Skill Level:

3

Completion Time: 1.50 - 2.00 h
Includes Audio: no
Required Plugins: Flash
Overall Rating:

(72 ratings)

Read or add reviews

Take the quiz?

Share this resource:
This case study focuses on a snow and blowing snow event in the Canadian prairies and US northern high plains on 11-13 November 2003. The key aim of this module is to step through the forecast process during an Alberta Clipper event from the perspective of a forecaster with the Meteorological Service of Canada. This involves consideration of various observations and model guidance, identification of potential areas of snowfall and blowing snow, nowcasting snowfall development and termination, and considering and providing nowcast updates throughout.