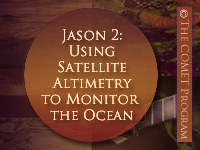 Publish Date: 2009-06-25
Last Updated On: 2015-07-02
Skill Level:

1

Completion Time: 1.00 - 1.25 h
Includes Audio: yes
Required Plugins: Flash
Overall Rating:

(32 ratings)

Read or add reviews

Take the quiz?

Share this resource:
2 July 2015: Added an introductory note: This lesson uses Jason-2 to show how altimeters work and the general applications possible with altimeters. Since Jason-2 was launched other altimeters have become available (e.g. Altika, Cryosat, Jason 3) and more will become available in the near future (e.g. Sentinel 3) - they all follow the principles and applications described in this lesson.