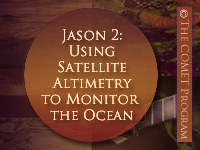 Publish Date: 2009-06-25
Last Updated On: 2015-07-02
Skill Level:

1

Completion Time: 1.00 - 1.25 h
Includes Audio: yes
Required Plugins: Flash
Overall Rating:

(32 ratings)

Read or add reviews

Take the quiz?

Share this resource:
Altimeters onboard satellites such as Jason-2 measure sea surface height and other characteristics of the ocean surface. These characteristics are linked to underlying processes and structures, making altimetry data useful for understanding the full depth of the global ocean. This 75-minute module explores major discoveries made possible by altimetry data in oceanography, marine meteorology, the marine geosciences, climate studies, the cryosphere, and hydrology. For example, altimeters have played a vital role in detecting and monitoring sea level rise and its relation to climate change. The module also describes many of the practical applications of altimetry data, for example, in hurricane forecasting and monitoring climate events such as ENSO. Finally, the module describes Jason-2, which was launched in 2008, its products and services, and the Ocean Surface Topography Mission (OSTM), of which it is a part. OSTM is a collaboration between EUMETSAT and CNES (Europe) and NOAA and NASA (United States).