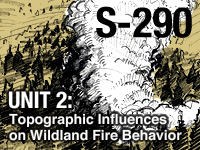 Take the quiz?

Share this resource:
S-290 Unit 2: Topographic Influences on Wildland Fire Behavior provides an overview of how topography affects fuels and the direction and spread of wildland fires. Information on features of topographic maps and estimating slope is also presented. This module is part of the
Intermediate Wildland Fire Behavior Course
.