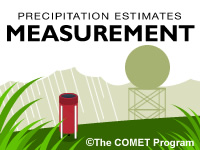 Take the quiz?

Share this resource:
August 2016 and August 2015: HTML and media assets in this lesson have been updated for current browsers and mobile devices.
July 2014: Since the publication of this lesson there has been a significant amount of experience gained with operational precipitation estimation using dual-polarization weather radar. This experience is not reflected in the material originally published in 2009.