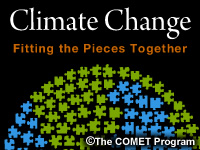 Publish Date: 2009-05-11
Last Updated On: 2012-12-18
Skill Level:

1

Completion Time: 2.00 - 3.00 h
Includes Audio: yes
Required Plugins: Flash
Overall Rating:

(1403 ratings)

Read or add reviews

Take the quiz?

Share this resource:
This module discusses climate change, particularly as it is currently being affected by increasing concentrations of greenhouse gases emitted by human activities. It also covers signs of climate change, how scientists study climate, the current thinking on future changes, and what can be done to minimize the effects. Updated in 2012.