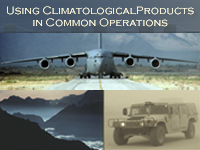 Languages: English
Publish Date: 2009-01-28
Skill Level:

1

Completion Time: 1.25 - 1.50 h
Includes Audio: no
Required Plugins: none
Topics:
Climate
Overall Rating:

(91 ratings)

Read or add reviews

Take the quiz?

Share this resource:
1. Define the steps in the Climate Analysis Process (CAP). 2. Describe the benefits of using CAP to handle new assignments and requests for information. 3. Determine the types of climate products that can provide useful information for particular situations, and interpret some of the data.