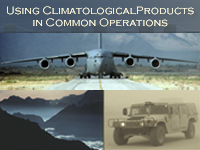 Languages: English
Publish Date: 2009-01-28
Skill Level:

1

Completion Time: 1.25 - 1.50 h
Includes Audio: no
Required Plugins: none
Topics:
Climate
Overall Rating:

(91 ratings)

Read or add reviews

Take the quiz?

Share this resource:
This module answers the question, "How can climate data and products from the U.S. Air Force's climate division (the 14th Weather Squadron) assist Department of Defense (DoD) forecasters in preparing for assignments to new locations and handling requests for specific information?" The 14th Weather Squadron is the DoD's largest source of climatological data and analysis products and offers a standard suite of climate analysis products that are available both as preformatted text and graphics and, increasingly, as customizable products with user-defined variables. This module teaches forecasters, especially those in the U.S. DoD, how to understand and use these data and products in their jobs. This is especially important in areas of the world with little available weather information, where climatology provides the best, if not only, way of determining likely weather conditions to assist in planning and operations. The module contains five scenarios that model using the Climate Analysis Process (CAP).